In the face of bad headlines–wildfires, the Delta variant, the Gulf Stream on the verge of collapse–I double-down on productive actions I can take: calling elected officials, donating, and finding ways to use Capital Good Fund as a better and more powerful tool for justice. We have some exciting things in the works. Here's a preview!
Green Lending

Since 2011, we've closed 564 energy-efficiency loans for $4.9 million with a 99.4% repayment rate. Historically, these have financed high-efficiency boilers and water heaters, as well as other measures like insulation, caulking, and removing mold. But with the climate crisis accelerating, we need to both massively scale up the program and make sure that we finance "greener" projects–an electric heat pump instead of a gas furnace, for instance. I'll share two initiatives I'm working on achieve those goals.
First, there is an enormous need among lower-income homeowners with less-than-perfect to secure financing for rooftop solar systems. If you have money and / or have good credit, there are myriad affordable loan options. But if you don't, you are unlikely to finance the $15,000+ cost, which in turn means that you won't benefit from lower energy bills and a higher property value. Yet, for various reasons, we've never done a solar loan.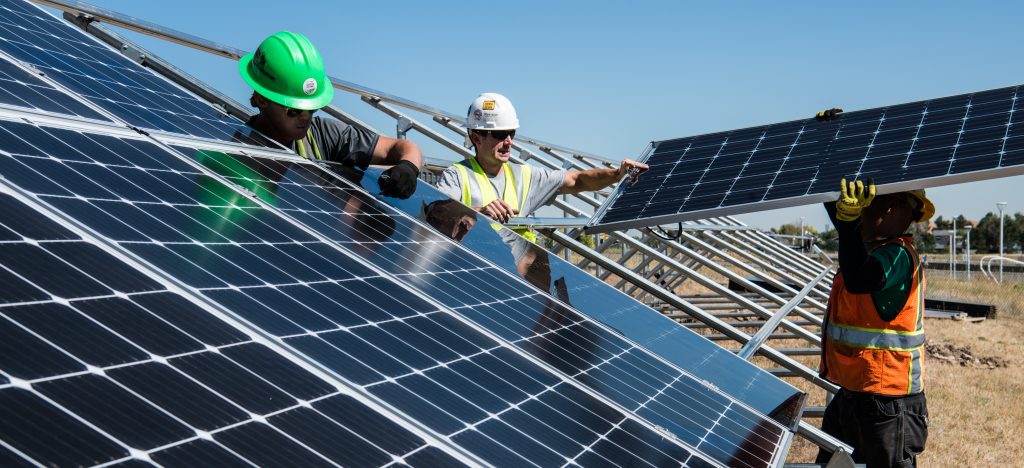 I've spent the last few months reaching out to local and national solar installers to find one that would be willing to run a $1 million pilot program with us. And while I can't name the firm, we finally found one that said yes! Starting in a few weeks, we will be making solar loans of $1,500 – $50,000 to Massachusetts homeowners, with a focus on the Latino / Latina community. The product will have an APR of 2.99% – 5.99% with a 10, 15, or 20-year term, and will cover the full cost of a solar array and, if desired, a battery backup system. If this goes well, we will quickly expand to a $10 million second round–and then grow from there. The only barrier to growth will be the availability of low-cost, patient capital for us to lend; we could be financing $1 billion per year and still just scratch the surface of the need. A successful pilot will open the door to raising the requisite capital.
Second, we have been looking for a state or utility-sponsored green program similar to the one in Rhode Island and Massachusetts of which we are a part.  The advantage of these programs is that the state or utility sets program parameters (i.e., what measures are eligible), creates a network of vetted contractors, and helps with marketing and branding; we've never closed a green loan outside of the New England program, in fact.
Researching the seven states in which we lend, we discovered that one of them has a program with most of the features we need: the state vets contractors and scopes of work, helps with marketing and branding, and more. At present, there are three participating lenders, all of whom offer loans of up to $50,000 for solar and / or energy-efficiency. But as with most of these programs, the families we specialize in serving are often left out. We have begun a conversation to see if Capital Good Fund can become the fourth lender, and the first to focus on homeowners that are subprime and / or are lower-income. The market opportunity is in the hundreds of millions of dollars.
Immigration Lending

The very first loan we closed, in April of 2009, was for a woman named Eva to apply for U.S. citizenship. Over the past twelve years we have closed 405 immigration loans for $1.8 million (with a 96.3% repayment rate). These loans go up to $20,000 and are used for all costs–attorney and filing fees, biometrics, travel–associated with any type of immigration case–citizenship, green card, family petition, asylum, deportation defense, and more. We are one of the few lenders in the country offering this kind of product, and the impact is stunning: thanks to the loan, immigrants have avoided deportation, brought family members to the country, become citizens and green card holders, and more.
But the need is acute and growing. We estimate that the market potential for immigration loans is $13 billion per year, and that's before any potential immigration reform. Why so much? Immigration law is complicated; if you want to win your case, you need a good attorney. Moreover, USCIS, the agency that processes immigration applications, is self-funded: 96% of its budget comes from application the fees it charges, which are always rising.
To scale to meet this  demand, we are talking to the American Immigration Lawyers Association about a nationwide partnership that would allow us to easily build a referral relationship with thousands of their member attorneys. Additionally, we are working with a national financial institution and a large foundation about an eight-figure investment (that's over $10 million) that will include low-interest debt to fund the loans and grant dollars with which to grow our capacity to originate, underwrite, and service loans. Stay tuned.
Technology
Lastly, all our growth plans are contingent on significant improvements in our technology. As an online lender competing with so-called fintechs, it is imperative that we a have fast, easy, and secure tech platform that will allow us to close hundreds, and then thousands, of loans per day (up from 10 – 30 per day now).
While we have recently invested a lot into our back-end infrastructure, we are at the limit of achievable efficiency gains in our current system. Knowing that, last week we settled on a new end-to-end loan origination and servicing platform called Turnkey. The total cost of implementing Turnkey will be about $400,000, but once we go live in January of next year, we will cut by over half the time it takes the process and close a loan while tripling the number of clients a single employee can serve.
I could write a novel about all the improvements we'll be making, but I'll highlight one as an example. When we review loan applications, rather than focus on FICO score, we instead prioritize the applicant's banking history. To that end, we review their three most recent statements, evaluating running balances, overdrafts, and recurring transactions: someone that tends to have money in their account is likely to successfully make their loan payment each month.
However, in order to review the statements we have to…see them. Right now, the only way to do is that is for an applicant to fax or securely upload those statements as PDF documents. For many people, this is too much of a hassle, or simply too confusing, and so only about 35% of applicants even make it to the review phase–because we won't review a file without the statements. With Turnkey, we will implement a tool that allows applicants to securely link their online bank account so that we can instantly pull their statements. Not only will this dramatically reduce turnaround time, it will also eliminate the submission of doctored statements and enable our loan  team to receive a summary of key metrics, like average daily balances, rather than having to manually comb through a large PDF.
Those three things–green and immigration lending, as well as technology upgrades–don't even encompass everything we have going on. But they should give an idea of why I'm so enthused and why I expect us to close over $20 million in loans in 2022, up from a projected $5 million this year and $3.3 million in 2020. When I think about these initiatives, I find myself moving beyond, and feeling better about, the day's dreadful headlines.
(Visited 81 times, 1 visits today)
You might also like