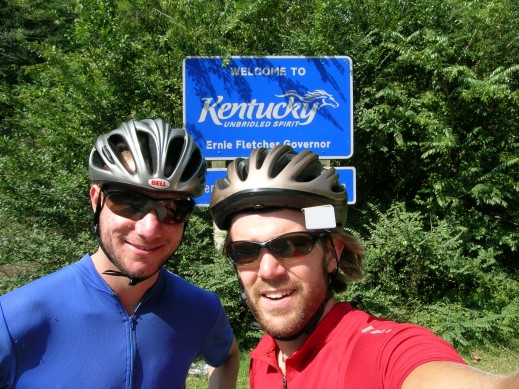 Jared and I arriving in Kentucky on our 3,800 mile bike trip across the U.S., September 2005



I'm currently in Tulsa, Oklahoma, in the apartment of one of my closest friends, Jared Auld. Three years ago I rode across the country with Jared and a woman named Nicole, who is also a good friend of mine. The first time Jared and I met was at the airport in Newport News, Virginia, and we quickly became close friends as we rode West across the United States, exploring valleys, hills and vast expanses of countryside. Jared and I have stayed in contact since the end of the trip, talking on the phone at least once a week, and I decided to take a few days to come visit him in his hometown of Tulsa.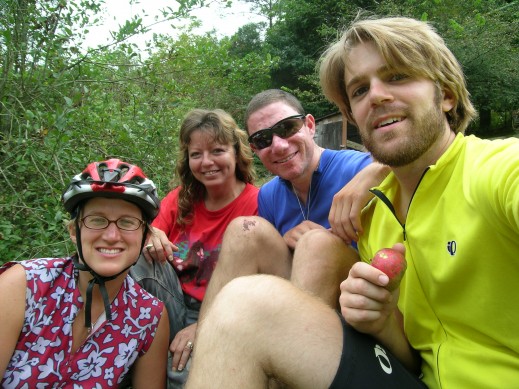 Another image from the cross-country bike trip



One thing that is very noticeable about Tulsa is the heat. The last few days the temperature has been hovering around 100, and the humidity is around 90%. Nonetheless, Jared and I have already gotten in some great bike rides. Yesterday, for instance, we went for a 48 mile ride with a friend of Jared's that used to be a professional cyclist. We left at 6:00 PM (to avoid the heat), and sure enough it was considerably cooler out. Before long we were outside of Tulsa and riding through some beautiful farm country. I was riding for the first time on my new Look pedals and SIDI Genius 5.5 shoes (they have a carbon composite sole!). The terrain was rolling and Jared's friend set a torrid pace; I had to ride to my limit just to stay on his wheel. I also don't think he took into consideration how slow Jared and I ride because we didn't get home until 9:45–well after dark. Nevertheless, it was a great ride and I was pleasantly surprised by my fitness level. I've been riding 15-25 miles a day for the last month or so, and it's always nice to reap the fruits of one's labor.
Apart from that, we've been trying to stay cool, hanging out with some of Jared's friends and so on. We went to a musical festival downtown last night, which was interesting. It's good to have a few days of respite from working constantly on my thesis, my company, and micro-credit. There's a lot of exciting stuff waiting for me when I get back to Providence!
(Visited 128 times, 1 visits today)