I spend a lot thinking about whether or not for profit entities can be relied upon to be forces for social good, if they can be at all (see my post on impact investing, for instance). Thus Nike's recent decision to run an ad campaign with Colin Kaepernick has led me to ask three questions: 1) Did they project that this would be good for their bottom line, and, had they found it to be harmful to profits, would they have done it anyway? 2) Does running ads featuring a man who has advanced the conversation on racial injustice and policy brutality make up for Nike's poor record of labor standards at its factories? And 3), Can business be a force for good?
As a for-profit, publicly traded corporation, Nike has a duty to maximize profits for its shareholders; they can pressure the company, and even sue it, if they feel that management is making decisions that harm the bottom line. I am therefore positive that before running an ad campaign called "Dream Crazy" with a Colin Kaeipernick, the football player who brought to prominence the movement to kneel during the National Anthem as a means of highlighting racial inequities, Nike did a careful analysis to understand its likely impact on sales and profits. Which is interesting, if not ironic, given the campaign's central message, "Believe in something. Even if it means sacrificing everything." Of course it would be irresponsible to wade into controversial waters without understanding the consequences, but the central question is this: Would Nike have run these ads even if they found it likely that doing so would hurt them financially? My guess is that the answer is no.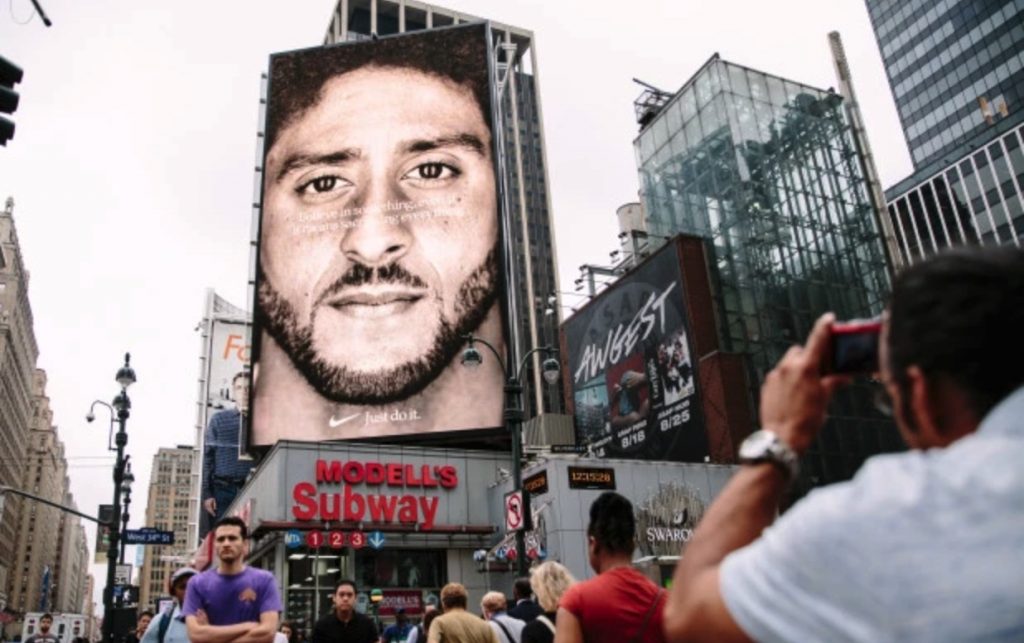 While it may be too early to determine if Nike will benefit from this action, the responses have been predictable. Conservatives immediately began boycotting the company, cutting the swoosh logo out of their Nike clothes, and even burning shirts and shoes–as though destroying clothing they had already paid for would impact Nike! But boycotts do make a difference, and it is not surprising that our childish president weighed in, saying that "Nike is getting absolutely killed with anger and boycotts." Yet while a small fringe of white conservatives is outraged, I highly doubt that the average consumer, be they left or right-leaning, will change their purchasing habits. On the contrary, not only will many of those who agree with Mr. Kaepernick be more inclined to purchase Nike products, but Nike is also receiving hundreds of millions of dollars of free advertising as people and the media talk about them; a story in Vox, Why the social media boycott…is a win for Nike, makes this point. Moreover, "the shoe giant's online sales grew 31 percent" since they announced the campaign. (Washington Post)
So no, I don't think there's any chance Nike would've taken this step had they determined that it would, in the medium or long-term, made them less profitable: the risks would be too great–the risk of lawsuits, the risk of executive leadership losing their jobs and losing out on salaries, stock options, and bonuses.
Now the second question: What about Nike's corporate practices that do not align with social justice? Nike has a long and checkered history when it comes to how it treats the (80% female) workers that make their products, a history that I won't cover in detail. Suffice it to note that in the 1990s "…Nike became the poster child for corporate irresponsibility and was regularly targeted by anti-sweatshop activists." And while "Over the next decade and a half, the company made serious efforts to reform its practices…Two years ago [they] stopped allowing independent inspectors to monitor working conditions…Since then, there have been reports of terrible working conditions inside these factories." These reports include "wage theft, forced overtime, restrictions on the workers' use of toilets, exposure to toxic solvents, and padlocked exit doors." (Fast Company)
Nike is no better or worse than any other mainstream clothing brand; they get extra attention for being one of the largest. But what does it mean to praise, and even admire, a company that speaks about social justice but generates massive profits–net income of $4.24 billion in 2017–off the backs of underpaid and mistreated workers? Does the one negate the other? What if Dream Crazy not only boosts sales but "covers up" negative press coverage?
This is actually quite similar to how much of the philanthropic world operates: person gets rich at the expense of people and the planet, then donates that ill-gotten wealth to charity and basks in the glow of his generosity. Andrew Carnegie epitomizes this. He was a brutal employer, willing to use violence to end strikes and to abuse his power to underpay workers, strong arm the government, and generally lie, steal and cheat his way into tremendous wealth. And then, after decades of being an asshole, he decided to give it all away; now his legacy is that of a generous man and smart businessman whose name is associated with all manner of social good. But as Anand Giridharadas argues in his excellent book Winners Take All: The Elite Charade of Changing the World, depending on the largesse of the rich and powerful to solve social problems is a dangerous and ultimately unworkable strategy. After all, what happens if the rich decide not to be generous, or if the way in which they are generous is misguided or wrong? A great example is when Mark Zuckerberg gave $100 million to fix Newark's public schools, the results of which are widely viewed as a failure. Why did Zuckerberg get to decide how to improve public education for an entire city? What about starting a technology company gave him, an unelected, white billionaire, the skillset or right to do so? Nothing.
I don't expect perfection from corporations any more than I do so from individuals, but it is appalling that Nike is unwilling to give up even a small percentage of its overall profits to be fair to the people on whom it depends to make those profits–the workers. How much money would it cost them to pay workers well, to protect their health, and so on? Ten million? One-hundred million? Surely Nike can afford it; theirs is a decision to make as much money as possible, no matter the cost, not an accident or oversight. Yet I am happy to see the company support Colin and his message. So there you have it.
All of this leads inexorably to the final question, the big one: Can corporations be a force for good? On the face it, the answer is, obviously, yes. Whole Foods led an organic food revolution and Tesla has done the same for electric vehicles. When North Carolina passed an anti-transgender "bathroom bill" numerous corporations decided to do business elsewhere, leading the Associated Press to estimate that the bill would "cost the state more than $3.76 billion in lost business over a dozen years." (CNBC) The lost goes on.
But how many of these examples harmed the bottom line? After all, both Whole Foods and Tesla specifically appeal to those with a social and environmental conscience. When a company like PayPal to scrap plans for a massive facility in North Carolina before the facility is built, the consequences are felt by the state–not PayPal. Etc.
There are of course examples of firms that truly are socially responsible, most notable Patagonia, yet not only are they the exception that proves the rule, they are forced, by virtue of their being responsible, to sell their goods and services at much higher prices; an organic, fair trade Patagonia t-shirt, costs ten times more than a Hanes shirt sold at Walmart. What this means is that, absent regulation that forces Hanes to engage in ethical practices or face real consequences, the consumer must either pay more or spend hours trying to research the practices of different brands and make purchases accordingly.
Ultimately, if a for profit's ability and willingness to do good is limited to circumstances in which the incentives happen to line up, then people and the planet find themselves entirely at the whim of the free market system and those who benefit from it. What does it say that unless it is profitable or otherwise good for the bottom line, a company is unlikely to voluntarily pay workers more, reduce greenhouse gas emissions, advocate for equitable tax policy, or do any number of things that have profound, life-and-death consequences for people around the world?
My argument is not that business can't do good, but that so long as doing good is voluntary and conditioned on a win-win paradigm, those who benefit from the good will continue to live, suffer, and die depending on how the rich and powerful decide to act. The solution? Only governments, responsive to an engaged electorate, can level the playing field and force actors to behave in a way that benefits the electorate, especially those who have less power and are more vulnerable, economically or otherwise. Again going back to the example of the t-shirts, if clothing brands are allowed to sell exploitative and extractive products, then anyone choosing to be more equitable does so at the risk of the bottom line; that, or they must raise their prices, making them a brand for the upper classes and limited their ability to do good at scae. But if regulations were put into place that required companies to disclose what they pay their workers, regardless of the country of origin; or if they were levied a carbon tax on emissions from their entire supply chain; or if any countless other policies were enacted, then, while all prices might rise slightly, the competitive pressure would be to lower those prices without breaking the law–perhaps by accepting lower profit margins. (This assumes the government actively enforces the law, which it did not do in the wake of the financial crisis, where no one went to jail…) In other words, a level playing field wouldn't reduce innovation or investment in growth or any of the other things free-market acolytes claim; it would simply mean that these innovations would have to happen in a regulatory framework that guarantees protections for people and the planet. Yes, shareholders of the company would be slightly worse off, but the planet as a whole would be better off. And isn't that what we all would want, even if we happened to be shareholders of Hanes whose return on investment might drop by 80% or even half? We'd still be making money, just not as much.
At the end of the day, perhaps the most pressing question is, Are we, as individuals, as workers, as voters, as a society, willing to accept lower profits and less (concentrated) wealth in the interest of justice and peace?
(Visited 2,034 times, 1 visits today)
You might also like