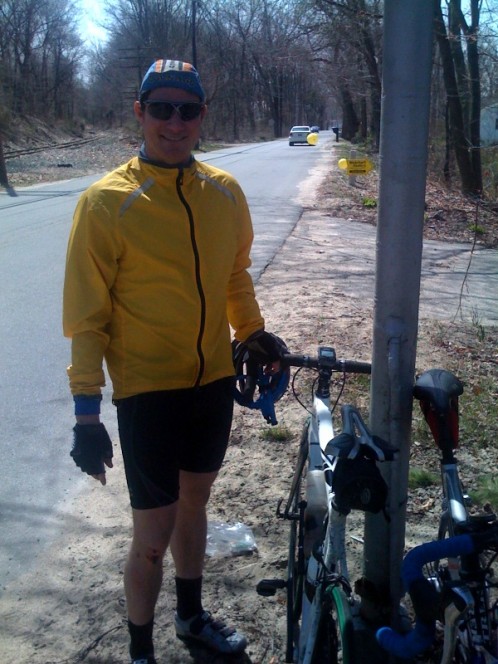 A little over a month ago I went through another one of my down periods, during which I felt incapable of doing anything. For a while I was afraid that I would find it impossible to complete my thesis, and I was also very disappointed with the fact that I had once again ceased riding my bike. When I finally started feeling better, I quietly resolved to ride my bike at least an hour a day, not so that I could achieve glory in cycling, but more importantly so that I would avoid falling into periods of inactivity. Granted, I had already tried this before, with rather unimpressive results: I made it about 20 days into the goal before I started overtraining (feeling tired, having trouble sleeping, etc) and had to stop. Yet something felt different this time: I was riding, not with the aim of becoming the fittest cycling in the world, but rather with the goal of feeling fit and happy. With that positive attitude, I started riding, and I haven't stopped since. Yesterday I completed by 30th consecutive ride, and not only have I lost some weight, but I also feel very fit, very happy and I have managed to do all this without the usual overtraining!
I was thrilled to reach this milestone yesterday, and indeed the first 35 miles of the ride were absolutely beautiful: my friend Mike and I rode a good, hard pace over country roads in Massachusetts, the weather was great, and I felt really strong. Unfortunately, as we were cruising back to where we had parked our cars (finally enjoying a tailwind) we both went down at one of the worst railroad crossing I've ever ridden across. Pictures and details after the jump.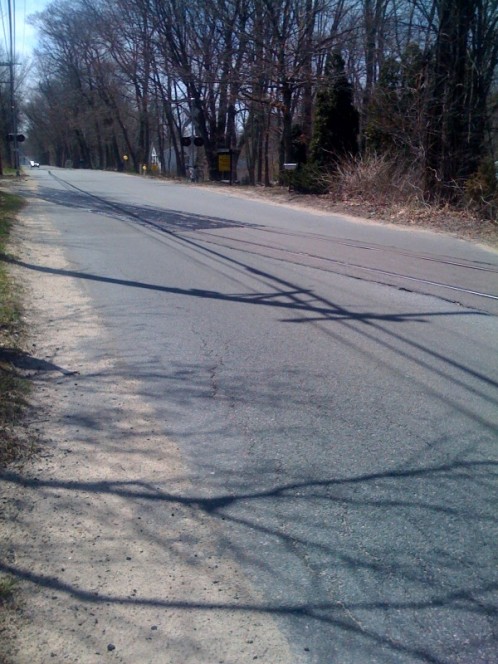 It's a little hard to see in the picture, but the railroad tracks cut through the road at such an angle that it makes it almost impossible to cross them without catching your wheel in the grooves of the tracks. The trick is to cross perpendicular to the rails, but if you look at the angle of the tracks, doing so would require riding in nearly the opposite direction, and with traffic behind us, we couldn't do that. The problem was also that we simply didn't expect the crossing to be so bad–we had already crossed 4 or 4 railroad tracks on the ride, but none of them were this poorly designed. Fortunately, we weren't going very fast, as we are both pretty cautious about crashing.
As we entered the crossing, Mike was in front and to the right of me, and out of the corner of my eye I saw him go down. At first, I was rather confused as to why he was going down, and the next thing I knew I was looking down at my front wheel in time to see it get caught in the tracks and I went down as well. It must have been quite a funny scene for the car behind us, seeing as we both fell like dominos for no apparent reason. I fell to my right and landed square on my knee. After an initial searing pain in my knee and hip, I quickly came to see that my body would be fine. The key thing for me was that I didn't hit my head which, given the concussion I had several years ago, is always my primary concern. My attention then turned to my bike. Let's keep in mind that this is my brand new carbon fibre bike that I adore so much and which is not exactly a $100 Wal-Mar tricycle…
The big concern with a carbon fibre bike is that carbon, while great at absorbing shock and preventing flex, is also prone to cracking given sufficient impact. After an initial inspection, however, it looked like the only damage to the bike was a bent rear derailleur hanger (which is replaceable for precisely this reason) and some scratches to my rear derailleur. I did leave my bike at a local shop to have it looked over more closely. The funny thing was that as Mike and I were standing there trying to figure out how to get home (we both couldn't ride our bikes) a guy rode by us who said that he had crashed at that same spot twice, and offered to ride home, get his car, and take us to the shop.
So all in all, it was a great ride with an unfortunate end. I feel delighted to be this fit and to be riding every day without overtraining. Here is another picture of my knee after the crash: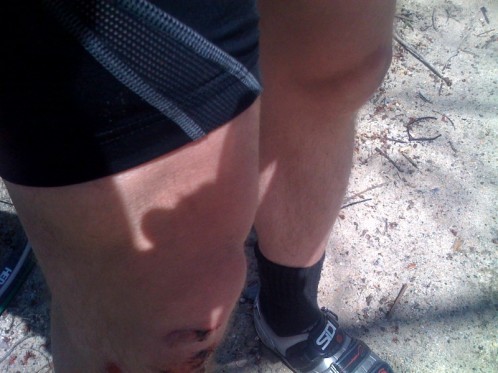 (Visited 90 times, 1 visits today)