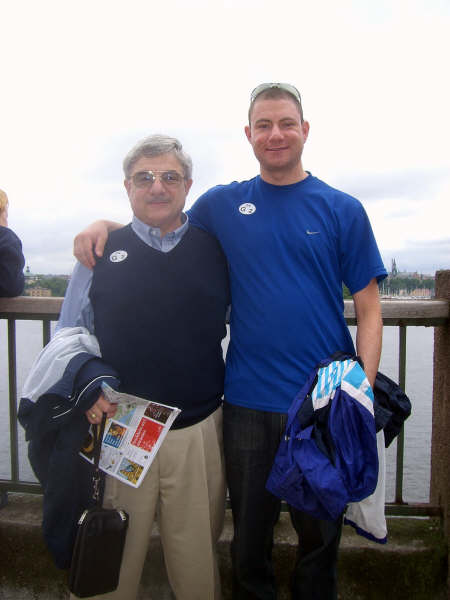 I recently got back from a 10-day cruise to the Baltic with my parents, and I wanted to share the photos and thoughts from the trip! The cruise left from Copenhagen, Denmark on July 5th. On the 4th, I flew to Newark, New Jersey, where I met up with my parents and from where we flew to Copenhagen via Amsterdam. Once in Copenhagen, we had a private tour of the city. Though I had hardly slept on the red-eye flight, I thoroughly enjoyed the tour. For one thing, the weather was absolutely fantastic, and the hundreds of massive wind turbines dotting the landscape were enough to make me fall in love. Throw in the endless bicycles, the quaint streets, and the kind people and, well, I was impressed!
When I was younger my mom, grandma and I would take a cruise every summer. We took quite a few cruises to Alaska, as well as trips to Hawaii, the Caribbean, the Panama Canal and the Mediterranean. My dad, however, had never joined us on these cruises, in part because he considered them to be "floating troughs" (referring, of course, to the fact that food is available 24 hours a day and the rather, um, large passengers…). So I was very excited to go on another cruise and to have my dad join us.
The ship, known as the Emerald Princess, is one of those massive modern cruise ships that is large enough to hold 3,000 passengers and 1,500 crew. It has six (6) diesel engines capable of putting out 65 megawatts of power (that's enough to power a small city) which is used to run the turbines and all the electrical systems on board. It has 5 restaurants, a 700-seat theatre, a casino, small shopping center, fitness center, miniature golf course, etc. In addition to all these impressive features, the ship is also a source of significant pollution from the diesel that it burns and the waste that it dumps into the sea. What's more, as I learned when I got back home, the cruise industry doesn't have a great human rights record–they hire people from developing countries and make them work 12 hours a day while living in cramped rooms for very little pay. So though I very much enjoyed the cruise, I was definitely troubled by these facts…
Our first port of call, after a day at sea, was Stockholm, Sweden. There, we did a 3 hour bus tour of the major highlights. Unfortunately, the weather was absolutely dreary and it was hard to discern just how beautiful and clean the city actually is. Once again I was impressed by the wind turbines and the bicycles (really, that's all one needs in life–a source of energy and a means of transportation!). Next, we went to Helsinki, Finland, which (and I can't resist this joke) I found to be rather dinky. It's a nice enough city, but very small and with nothing particularly interesting. Perhaps the most interesting site we saw was a church carved out of rock (photo below).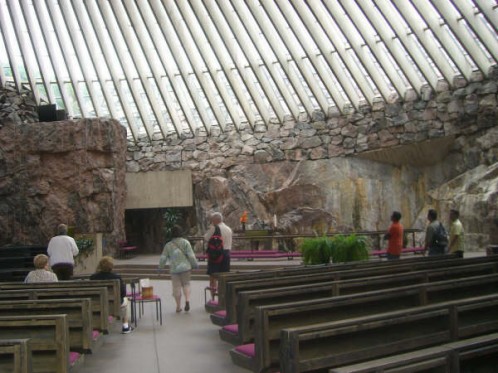 From Helsinki we made our way to St. Petersburg, Russia. The story of St. Petersburg's founding exemplifies what happens when megalomaniacal rulers are in charge of, well, anything. The city was built on marshlands in the northern part of Russia, in effect so that Russia could have a port on the Baltic sea. 200,000 Russian peasants died in the process of enabling Peter the Great to realize this goal. Given that I had this historical background going into my tour of the city, it should come as no surprise that I wasn't very thrilled with the fact that we basically visited a bunch of palaces and royal summer residences. And if we weren't visiting these bastions of opulence and wastefulness, we were visiting churches–not exactly something I'm that interested in, either. Perhaps the funniest–and oddest–part of the whole visit was when, before even being allowed off the ship, we had to be inspected by a burly Russian doctor wearing a mask and wielding an infrared thermometer that she would hold up to the ear of each passenger, one at a time, to take their temperature. The purpose of this exercise was to guard against swine flu, but it really just came across as somewhat Orwellian. In any case, Russia is not the world' most organized country, and the sites we did visit were bastions of chaos and disorder. Our tour actually consisted of two full-days (we stayed in the port for 2 days), and I decided not to bother with the second day of the tour. I spent the second day relaxing on the ship, reading, writing and doing a really long ride on the stationary bike.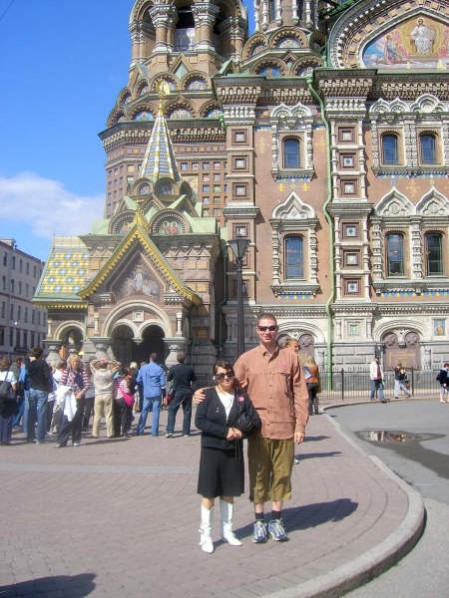 My mom and I in St. Petersburg
Our next stop was in Talinn, Estonia. I didn't know what to expect, but I was actually quite pleasantly surprised. Talinn is a medieval town; it's quaint, quiet, pleasant. Once again the weather was perfect, and I really enjoyed strolling the streets and taking in the ambience. I was also interested to learn that Estonia is known for the IT industry, and as an example the founders of Skype are Estonians! Next we went to a town in Poland called Gdansk. This may well have been my favorite town. Once again, it is a medieval city, but this time, in addition to the great weather, we had a chance to walk the streets for about 2 hours. Because it was a Sunday, there were literally thousands of people strolling, eating, holding hands, etc. My mom, dad and I grabbed a quick bite to eat, took in the sights and relaxed. That's what I like to do when I travel–get a sense of a place, as opposed to "sightseeing."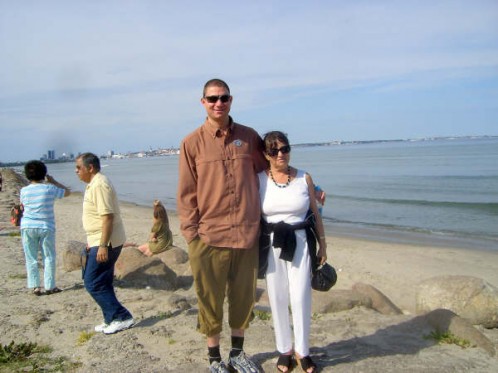 My mom and I on the beach in Poland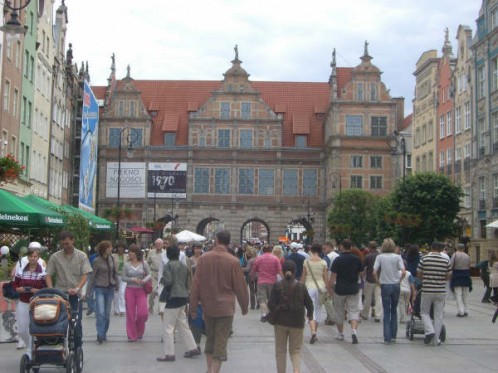 The scene in Gdansk, Poland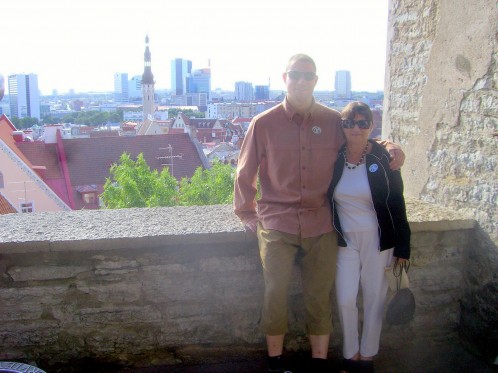 My mom and I with a view of Talinn, Estonia in the background
Our last stop was at a port in Germany whose name I forget, but that is 2 hours drive from Berlin. We decided to have a private tour of Berlin, meaning that we were picked up from the port and driven to and around the capital of Germany. We were picked up by a well dressed German driving a BMW 7-series diesel, and before long we were traveling at speeds in excess of 120 MPH on the German autobahn. Berlin was far and away my favorite stop. We toured all of the highlights–Checkpoint Charlie, the remnants of the Berlin Wall, the Parliament Building, the Holocaust memorial, the Olympic Stadium, etc. But once again, what I really enjoyed was strolling the streets, having lunch at a local restaurant, seeing the architecture, the people, the trees. Amazingly, there is no visible difference between East and West Berlin–if anything, East Berlin is nicer because everything has been rebuilt. It's hard to imagine that just 18 years ago people in East Berlin lived under the repressive Soviet regime. Germans seem to have an amazing ability to recover from dark periods in their history. The country is a beautiful place with an extremely high standard of living, wonderful people and a LOT of renewable energy (12% of all their energy comes from wind!).
Here is the rest of my interesting photos, starting with those from Berlin: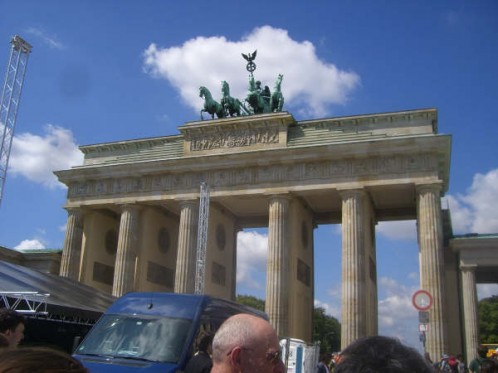 A view of the Brandenburg Gate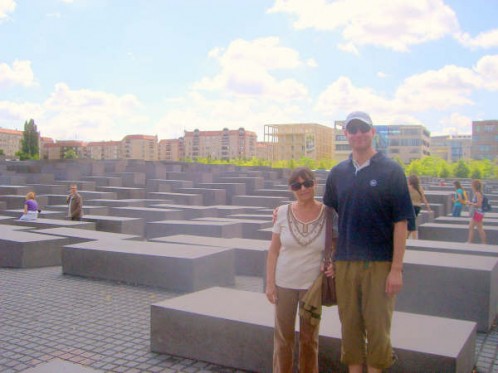 My mom and I at the Holocaust Memorial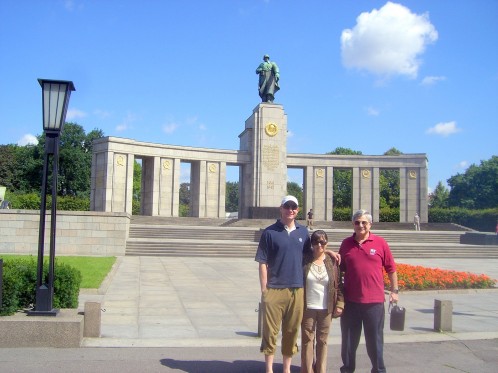 Mom, Dad and I in Berlin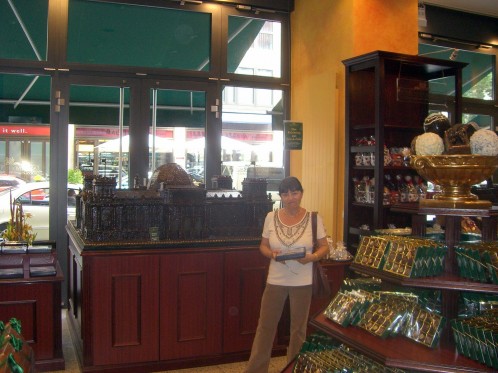 Mom in heaven at a German chocolate shop!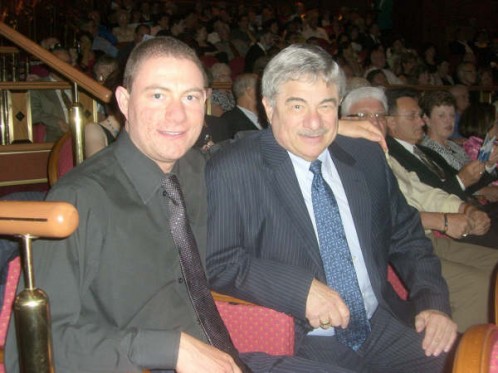 Dad and I on the formal night of the cruise, looking studly!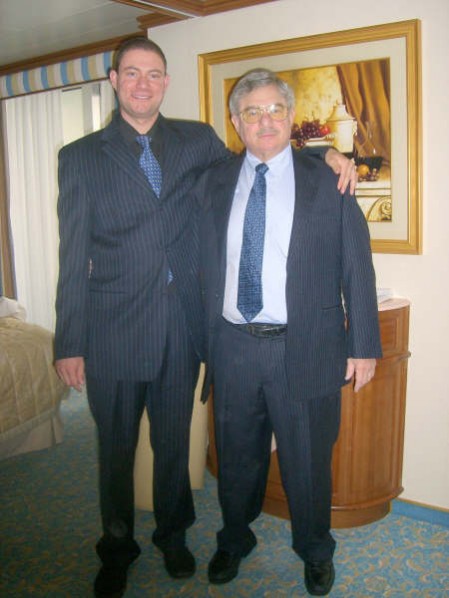 Dad and I all dressed up in our stateroom!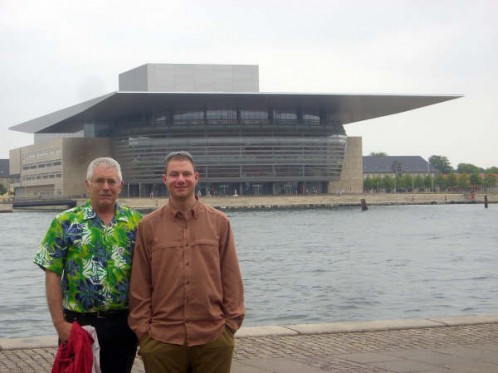 The Opera House in Copenhagen
(Visited 83 times, 1 visits today)