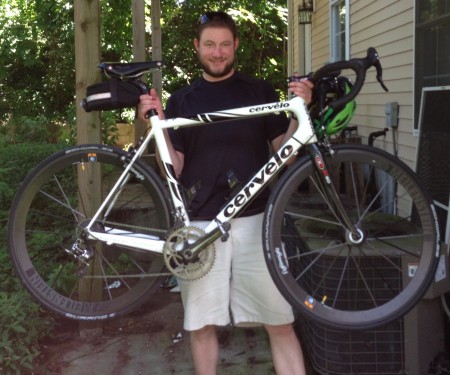 My Race Bike
Painful. Dangerous. Frustrating. Exhilitarting. Exhausting. Blissful. Expensive. You can apply pretty much any adjective to the experience of cycling long distances, and that's probably why I love the sport so much: it is rare to find activities that make you feel so alive.
If you talk to most avid cyclists, the conversation will quickly turn to gear, to tactics, to nutriton; cycling is a sport for nerds, one in which aderodynamics, strength-to-weight ratio and watts per kilogram are a standard part of the nomenclature. But cycling is a also a sport for those with mental fortitude, for when you are riding it is just you, your thoughts and the road; no one can push your pedals for you or make the miles tick away faster. Sure, you can draft off other riders or chat with them, but the high-mileage cyclist inevitably spends a lot of hours riding by him or herself with nothing but the next strip of road to focus on. When you are feeling well, it feels like you aren't even pedaling, like there isn't even a bicycle beneath you and that you are simpy floating across the terrain. On days when your legs are sore, you body or mind weary, every rotation of the pedals is a struggle.
Either way, the ride is the ride, a panoply of human experience in motion. This morning I rode 34 miles and felt terrible, yet it was wonderful. Last Monday I rode 30 miles and felt fantastatic, yet it was wonderful. There have been times where I have approached heat exhaustion or frost bite, where the rain has pounded me into submission, or when the wind has whipped me into a fury of frustration. And still, every day I think about that feeling of freedom when you are on the road at 15 – 20 MPH, and suddenly all the other things go away, leaving you with the clarity that comes from a singular mission: pedal with your legs, change gears, and presto! Magic.
(Visited 123 times, 1 visits today)