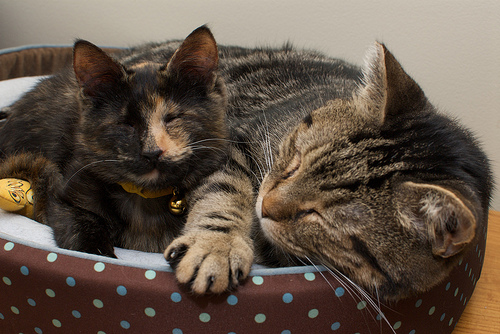 So Comfy!

Let's face it: those of us with money, especially those that live in "first world" countries (yes, I hate the phrase, but it serves its purpose here), lead lives of tremendous comfort and luxury. Need I list the ways? Running water, heat and air conditioning, clothing made of advanced materials, smooth roads, food aplenty, fancy cell phones and computers and tablets…
For a long time I felt guilty about this; so guilty, in fact, that in my early 20s I went through a phase during which I gave away most of my clothes in favor of an all-white outfit, eschewed as many pleasures as I could (boy did I succeed in making myself miserable!) and was all around a pain-in-the ass. Fortunately, not only did I leave that lifestyle and mentality behind me, I think I've come up with a deeper realization: the thing of which we should be afraid is not comfort and luxury, but rather an inability to understand the limitations and dangers thereof.

These dangers range from the insignificant to the mildly important to the life and death. For instance, this morning Bianca and I are both curled up to good books. We are nice and warm and snuggly at home, and outside it is raining and chilly. However, both of us want to run (in her case) and bicycle (in mine). We know that exercise relaxes us, makes us more productive and happy. We also know that we have busy weeks ahead of us and that for the foreseeable future it will be hard to find time to work out. For us, this matters a great deal: Bianca is doing critical research, the application of which will have implications in the field of influenza vaccines, and I am trying to tackle poverty through Capital Good Fund. Our ability to perform in our jobs—which are often stressful and draining—depends on our mental state being clear and focused. The solution may be obvious, but easy to overlook: comfort awaits us when we return, comfort envelopes us in its warm embrace, but comfort contains our true potential. Realizing that potential means venturing out, beyond our comfort zones, for just a few hours!
Now consider another example. After a 10 – 12 hour day at work, a day rife with concerns about fundraising, borrowers late on their loans and a host of other challenges, all I want to do is have some dinner, crawl into bed and watch reruns of Seinfeld or Family Guy. And you know what? Sometimes that is all I should do; there are, after all, limits to what I can accomplish and do in a day. At the same time, however, life is short. I want to make a difference in the world. I want to wring as much joy and beauty and kindness and passion out of my being as possible. As long as I am willing to stay within my physiological limits (if I sleep less than 6 hours a day my ability to function is severely compromised), why not pick up a book instead, a book that will engender new ideas and new feelings with in me? Why not write a blog post that someone half a world away might read and become inspired? Why not take some time to look out the window and dream about what is possible?
To be clear, I'm not saying that we must all work all the time. What I AM saying, though, is that the seduction of comfort can divert us from what we really want to get out of life. It's so easy to find an excuse not to go for a bike ride when it's raining. It's so easy to stay inside, literally or figuratively. But let's remember: when we are truly tired, when we truly need to stay inside, there is a whole world of comfort waiting for us. In the meantime, let us reach for the stars, drag them down to the world we want to create and, to paraphrase Dr. Martin Luther King, Jr., bend the arc of history toward justice.

(Visited 34 times, 1 visits today)