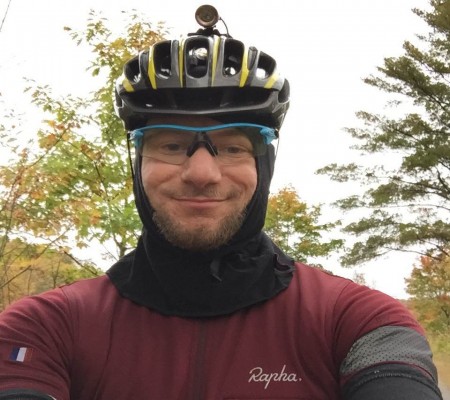 Last Sunday I completed a 127 mile bike race through the Berkshires. Below can see the details of the race–the route, elevation gain, average speed, etc. What you can't see, of course, is what really matters: how I felt, the beauty of the course and the challenges I faced. For those of you who haven't been, the Berkshires are gorgeous year-round: lots of country roads, woods, streams, small bridges and expansive vistas. But in the Fall, the area takes on the hue of unabashed beauty; so-called "Leap Peepers" from all over the country travel here to check out the foliage, and the entire landscape explodes into a pastel of bleeding color.
As you can imagine, the designers of the race–called the Great River Ride–crafted a route that transports the riders along scenic roads which, as the name implies, often meander alongside the Westfield River. I got on the road at 6:15 AM, about 30 minutes before twilight. Much to my surprise (I should have read the weather report more carefully), it was a mere 28 degrees at the start; when combined with fog, mist and a chilly wind, suffice it to say that I was quite cold until well after the sun had come up and done a reasonable job of warming things up. In fact, I found myself constantly blowing on my fingers to prevent them from getting overly numb!


As the sky brightened, however, so did my mood. I slowly felt myself waking up. The leaves began to shine in the morning sun. And the road ahead was smooth. After two hours I had already covered 25 miles and had gotten into a good rhythm: pedal, sip water, ingest food, rinse and repeat.
One of the key features of the Great River Ride is the climbing, to the tune of nearly 10,000 feet. From mile 35 to 100, the road was almost always going up or down. Unlike climbs in, say, the Rockies, the hills in the Berkshires are short and steep; gradients of 15% are not uncommon, and they just keep coming. What I find especially challening about this kind of route is that, first, it's hard to get into a routine, and second, I am constantly either too cold or too hot. On several occassions I stopped to take off my jacket, only to then put it back on at the top of a hill: you can get quite cold when it's 40 degrees out and you are descending at speeds approaching 50 MPH!
At this point I should mention that the last time I did a century ride, back in March of this year, I got extremely nauseated with 30 miles to go, and actually had to give up 100 miles into the 125 mile race. Knowing that, I thought I was being extra careful this time to drink enough, eat the right amount, and so on. Unfortunately, the sad truth is that, when it comes to nutrition for ultra-endurance bike rides, I don't know what I'm doing. And so, of course, 85 miles into the ride, and not long after cresting a 2 mile climb with an average gradient of 10% (that hurt, I assure you!), I started to again feel nauseated.
The thing with nausea is that it's bad enough on its own, but it's especially unpleasant when your heart rate is 175 and you are at 95% of your maximum exertion. It also makes it hard to continue fueling yourself with food! I was determined to complete the ride, however, and so I plowed on. Still, as the miles trickled by, my misery increased, and soon I was stopping every few miles to try and settle my stomach. Then, with just an hour to go, I started hiccuping, and didn't stop until well after the finish. As you can imagine, it is VERY difficult to ride a bike while hiccuping, and my lungs were still hurting two days after the race!
After nearly 11 hours on the bike, I finally crossed the finish line, exhausted, sick and frustrated. I couldn't believe that the only reason I couldn't enjoy the ride was nausea; it wasn't my lung capacity, nor was it the strength of my legs or my ability to sit on a bike that long! The good news, I guess, is that my fitness level is clearly where it needs to be. That said, given that I was still feeling sick when I went to sleep, I decided that, the next time I feel like puking on a ride, I'm going to pack it in rather than put myself through that hell again.
Now that a few days have passed, I am proud to have pushed through the discomfort. I've begun researching proper nutrition for long distance cycling, and in a sign of my questionable sanity, I'm actually doing a 200 mile race this Saturday in Solvang, California! I will share photos and the route info from that ride next week.
(Visited 338 times, 1 visits today)