I've spent so much time thinking about predatory lending here in the US that it's been a while since I've contemplated what the picture looks like in other countries. Sure, I know that Grameen Bank got started in Bangladesh in the '70s to put the loan sharkes out of business, but I haven't stayed on top of what's going on today.
Two articles this week helped me gain some perspective. First, Eli, my Development Assistant, spotted a hilarious art installation called Pocket Money Loans, which satirizes the payday loan industry in the UK; I highly recommend you check out their website, http://pocketmoneyloans.com. The joke is brilliant: pocket money cash advance loans for kids at the wonderful interest rate of 5,000%!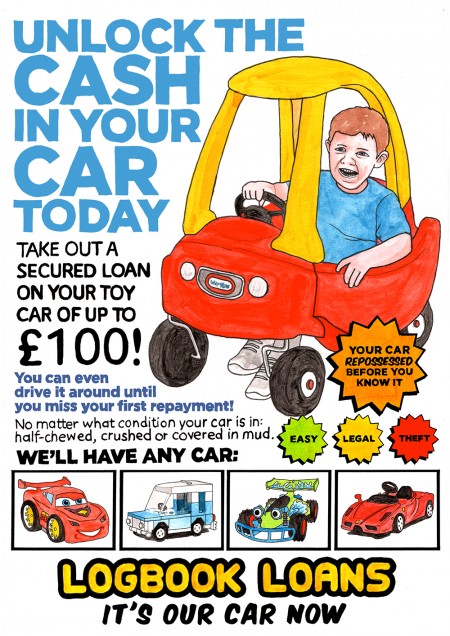 Some of Pocket Money's Brilliant Satire
The fact that such a site exists indicates that payday lending is an issue in the UK, and that indeed is the case: according to Consumer Affairs, "In a relatively short period of time, the UK payday loan industry has experienced explosive growth" from about £900 million in 2009 to over £2 billion in 2012. And much as in the US, these payday lenders charge obscene interest rates; engage in shady, if not outright illegal, collection practices; and profit off the financial vulnerability of the working poor.
Second, a NY Times article blew my mind with the its opening paragraph: "Interest rates in Brazil would make an American loan shark blush. Credit cards charge more than 240 percent a year. Bank loans top 100 percent." After re-reading that three times, I still struggled to believe it; Brazilians pay more for "mainstream" financial services than Americans pay for "alternative" financial services. The article then goes on to note that pawn shops, which–thanks to the decree of a former dictator (a weird story in-and-of-itself)–can only charge 19%, have become one of the most viable and affordable options in the country. Talk about an interest rate environment that's wildly different than ours!
It's certainly not good that other nations struggle predatory lending, but it's undoubtedly interesting. To paraphrase the opening to Tolstoy's Anna Karenina: all equitable financial services are alike; each unjust financial service is unjust in its own way.
(Visited 321 times, 1 visits today)