One of the more interesting facets of my job is the opportunity to peer behind the curtain and see how political lobbying actually works. Over the past few months, I have been involved in three advocacy efforts: capping the APR on loans in Illinois at 36%; overturning the "True Lender" rule; and eliminating payday lending in Rhode Island. In Illinois, not only were we successful, but Capital Good Fund played a crucial role in the victory: had we not been a part of the coalition, the 36% rate cap, which will save Illinoisans an estimated $50 million a year in interest and fees, may not have passed. The True Lender rule, which is a policy passed in the waning days of the Trump Administration that would have allowed predatory lenders to evade state interest rate caps through so-called "rent-a-bank" schemes, was just overturned. That said, while I joined several calls with Congresspeople and their staffers to ask that they vote in favor, I can't say that my voice made much of a difference.
The effort in Rhode Island is perhaps most illuminating. First some background. In Rhode Island, the interest rate cap on small-dollar personal loans is 36%–unless you are a payday lender, in which case you can charge $10 per $100 advanced, which comes to an APR of 260%. A $300 payday loan can easily end up costing $500 in interest and fees, result in overdrafts and damaged credit, and lead to bankruptcy. Payday lenders target communities of color and are, in short, despicable.
The special carveout which makes payday lending legal was enacted decades ago. For the past ten years, advocates, led by Margaux Morisseau and joined by many other community leaders and organizations, including Capital Good Fund, have tried to eliminate it. The reason this commonsense legislation hasn't passed in a state where 99 out of 113 members of the state legislature are Democrats is a case study in what's wrong with our political system and why it's so hard to even do things that are broadly popular (over 70% of Rhode Islanders support a 36% rate cap).
There are several issues at play. The first is that the lead lobbyist for the payday industry, Bill Murphy, is a former Speaker of the House in Rhode Island. He is paid $30,000 per year to make a few calls to his friends in the legislature, and that's often enough to kill a bill. This was especially true under the prior two Speakers, both of whom had personal relationships with Mr. Murphy; they never allowed the payday reform bill to even get a vote. However, the current Speaker doesn't have that relationship, and so Bill Murphy isn't the only reason why we are likely to once again fail to get rid of payday lending this year.
The fundamental challenge here is a power imbalance. For instance, the payday industry has the time and resources to recruit and pay its employees and customers to testify against reform and to contact their elected officials. I've seen this play out in Illinois, where subsequent to the passage of the 36% rate cap, the industry has waged a war to get it overturned (they have yet to succeed, thanks to a very robust coalition, led by Brent Adams at the Woodstock Institute). And I've seen it in Rhode Island, where, as I've spoken to various legislators, they have often brought up "constituents" who have told them how important payday lending is to their economic security. I have no doubt that these constituents are paid by the industry to tell a story, but it only takes a few phone calls to give a wavering legislator the cover she needs to not take action. (The flip side is that it can sometimes just take a few phone calls to give her the cover to do what's right!)
On the other side of the issue, advocates like me are balancing running a nonprofit and all my other responsibilities while also calling elected officials and trying to convince community members to make calls and testify at hearings. In short, we're bringing a paper knife to a gunfight: the industry's only focus is preserving their roughly $2.5 million in annual profits in little Rhode Island, whereas advocates have to balance a multitude of priorities, and to do so with almost no budget.
Another problem is, of course, cowardice. The first two challenges notwithstanding, legislators could just say, well, this is the right thing to do, and so we're going to do it. But absent the kind of massive publicity and lobbying campaign advocates lack the resources to mount, it's far easier to let the bill die a quiet death in committee. And that's the problem: year after year, the bill is brought up in a committee hearing, held for "further study," and then never voted on. Because no one has to vote on the bill, no one has to defend supporting outrageous interest rates! It's far safer to not stick one's neck out than risk the industry's ire, especially if one is a recipient of payday lender campaign contributions.
To at least put some pressure on the legislature, I took out a full-page ad in the Providence Journal and got Rhode Island Public Radio to do a story on payday lending. Below is the ad I ran: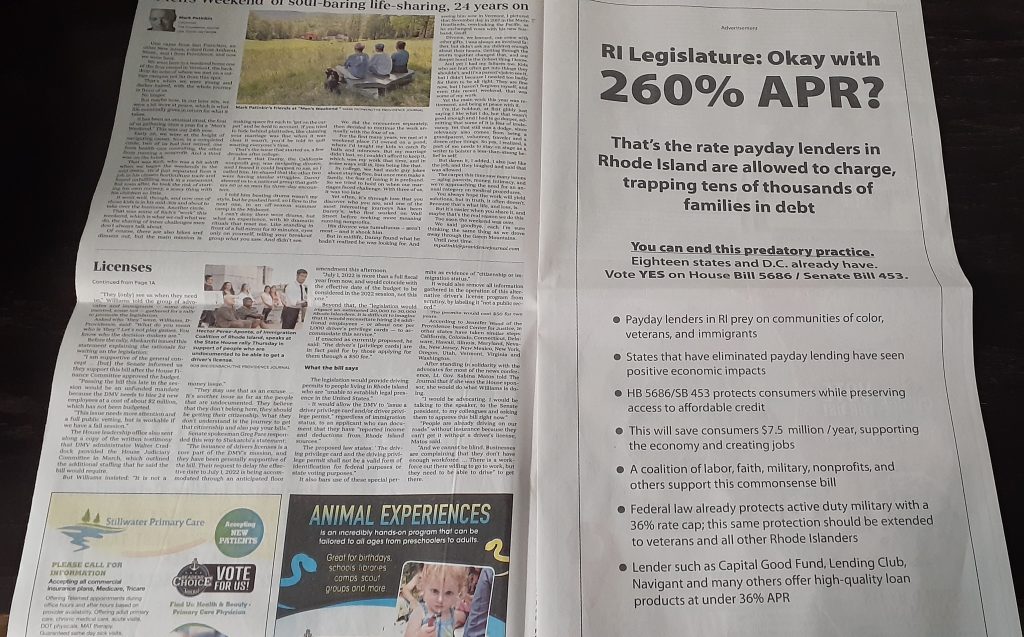 Unfortunately, the RIPR story makes clear that we are not going to succeed in this legislative session. One disappointment is that the co-sponsors of the bill on the House side have done almost nothing to fight for the bill; if they don't make it a priority, it's hard to get the attention of the people that matter: the chairs of the relevant committees and leadership in the house and senate. Another is that leadership is playing dumb. For instance, in the radio story, Senate President Dominick Ruggiero said, in response to a question about the bill, "Haven't even looked at it…I didn't know a bill was in." That is almost certainly not true, but what does it matter? Who is going to call him out  make him face electoral consequences? Other than writing this essay, it's not like I have the money to start mailing out flyers to his constituents, calling him a liar and saying he supports predatory lending–which, by the way, is exactly what the payday industry would do if the tables were turned. Not only that, but if I play "dirty", I leave myself vulnerable to attacks from my well-heeled opponents. I'm always up for a fight, but I may not have the resources to win it!
It's important to keep in mind that while I'm talking about one specific piece of legislation, the same dynamic is at play regardless of the issue; and the more arcane or nuanced the bill, the easier it is for elected officials to vote in a way that benefits lobbyists and donors, as opposed to everyday people and the planet: how is the electorate to stay informed about things like forced arbitration and garnishment of public benefits, for instance? (Incidentally, I've been working with the Consumer Federation of America to lobby Congress to deal with both of those issues…)
Changing the status quo is hard. It's made even harder by the extent to which corporate money floods our political system at the local, state, and federal level; by the death of so many local newspapers; by social media networks that monetize disinformation and engagement at the expense of truth and reasoned discourse; and by a citizenry that believes less and less in our democracy, which reduces engagement and further enables corruption and bad policymaking. This is one reason why Capital Good Fund, despite having a mission that isn't ostensibly related to voting rights, is so supportive of the For the People Act. The easier it is for people to vote, and the less money, especially dark money, that flows through the veins of our political system, the more level the playing field will be. For while there is no single policy that can ensure that community advocates win, we can at least tilt things a bit more in our favor. Until then, we'll continue to fight, and I encourage you to join Capital Good Fund's For the People advocacy campaign.
I'll close by noting just how crucial it is that you regularly contact your local, state, and federal representatives, be they on the school board, city council, public utilities commission, or in any other position. You would be stunned to know how much weight our representatives can place on a single constituent's story when deciding how to vote on an issue. The powerful lobbyist always makes sure that a legislator hears his side of the issue; let's at least ensure that our side, the people's side, is heard as well. It can take two minutes to make the call, and the impact can sometimes mean the passage of legislation that protects consumers, supports small businesses, or does any number of good things for our democracy.
As proof that advocacy can and does work, just look at Illinois, where a coalition took on not just payday lenders, but a roughly $5 billion industry charging interest rates over 36%–often as high as 450%–and won. Change can happen.
(Visited 62 times, 1 visits today)