The Elephant in the Room
I've written about what a danger Donald Trump is to the nation and the world, but now that he is the presumptive Republican presidential nominee I want to bring up the elephant in the room: given that Donald Trump is a racist, misogynist, autocratic, ill-informed serial liar, what does that say about the millions who have voted for him? Watching and listening to coverage of the campaign I've found that the press tries to tiptoe around this issue. Here is a typical comment by a so-called expert:
"…rather than thinking about [Trump voters] as white supremacists and painting everyone with a big broad brush, I think it is more about anxieties and worries…So I think it's a volatile cocktail of economics, cultural changes and demographic changes [that are] fueling these anxieties." (Robert P. Jones in an interview on Moyers and Company)
Here are some of the other comments the media make about Trump voters in order to whitewash their views:
They are tired of politics-as-usual
They like that Trump tells it like it is
They want a businessman, not a politician, because he knows how to get things done
What's Worse?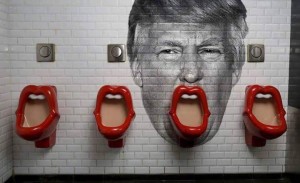 Let me be clear: this is bullshit. Either Trump voters don't believe that he really believes the vile things he says, in which case he is a liar who will say anything if it suits him; or they believe in what he says, in which case they share his dangerous worldview. I'm not sure if it's worse to be stupid and gullible or cruel, but neither trait reflects well on those who have voted for Donald J. Tump.
It is wrong that media coverage of Trump takes him seriously, as though he had serious policy proposals that couldn't be mistaken for flatulence. He does not. What comes out of his anus of a mouth ranges from the blatantly unconstitutional (preventing members of an entire religion from entering the country), to the disturbingly fascist (deporting million of families from the nation), to the infantile (talking about the size of his penis), to the disgusting (dismissing a female reporter's tough questions as a symptom of menstruation).
Mr. Trump does not have a coherent tax policy or foreign policy or immigration policy; a person voting for him can be nothing other than an idiot or a bigot. Sure, they may have legitimate concerns about job losses and economic stagnation, but so did Germans supporting Hitler. It does not follow that legitimate concerns justify a vote for a fascist, yet if you turn on the TV or the radio you cold be forgiven for thinking that to be the case.
Unification?
If ever there were a time for people to stand on principle, this is it, which makes it all the more galling that so many prominent Republicans are deciding to "unify the party" at all costs. I welcome having a debate about the the tax rate, the role and size of the federal government, and the role of America on the global stage. But with Trump as the Republican candidate for president of the United States, there can be no actual debate; this will be a campaign between a buffoon and a candidate. After all, however flawed Hillary Clinton might be–and I have serious concerns about her connections to Wall St., her lack of trustworthiness, etc.,–she has positions that can be debated, rebutted, refined, and improved upon. Trump, on the other hand, holds positions that are so ill-informed as to be laughable. Trump, in short, isn't a candidate so much as a projection of the nation's ugliest and most intolerant elements thrust onto the national stage.
Where once I could scarcely believe that Donald Trump was leading in the polls and winning primary after primary, my surprise has turned to a sobering reality: America was built on the backs of slaves and expanded through the dispossession and murder of native peoples, and this legacy has yet to be properly dealt with let alone expunged from the hearts and souls of many. One of the most honest things I've heard about Trump voters is that he says what they really think; in contrast, other right wingers don't say it, they simply enact policies that are harmful to people of color, gays, immigrants, and other vulnerable and minority groups. Maybe, therefore, it's better that he be the candidate and lay bare the hatred that undergirds the beliefs of a significant swath of the American public; better, so long as he doesn't win, for should that horrifying possibility become reality–and it being a possibility is enough to fill me with terror–the peace and stability of the entire planet would be gravely at risk.
(Visited 225 times, 1 visits today)
You might also like