On Earth Day last year, I wrote a poem that captured my despair–the Former Guy was still president, Republicans controlled the Senate, the election was looming, a pandemic was raging, and climate news was pretty grim–as well as my attempts at finding hope. This year, things feel quite different. I got my first shot of the Moderna vaccine. We have a president that, well, cares about people and the planet; in fact, Biden announced that the U.S. is committed to reducing emissions 50% by 2030 (compared to 2005). As I recently noted, the American Rescue Plan Act was good policy and will help reduce child poverty, restore trust in government, and support struggling families. George Floyd's killer was convicted of murder. And the Administration's proposed infrastructure bill–the American Jobs Act–has a lot of important proposals that will create jobs and slash greenhouse gas emissions.
There are other reasons to feel hopeful about the future, particularly with respect to climate. The costs of the key technologies that will lead the way–solar electric, battery storage, wind turbines, electric vehicles–are plummeting and in many cases are now cheaper than fossil fuels. For instance, according to Energy Sage, "in 2009, the cost of a solar panel installation was $8.50 / watt"; today the cost is down to just $2.81/ watt. To put that into context, a typical 10 kilowatt system has gone from $85,000 to $28,100 in ten years. That is a stunning drop, and the return on investment for a solar system is very strong; depending on the state, the system can pay for itself in anywhere from five to ten years.
Now that we have an administration that is prioritizing climate policy, it is possible to think big and bold. We know what we need to do to decarbonize the economy: expand and harden the electrical grid; electrify everything (induction cooktops, heat pumps, water heaters, transportation); increase storage for intermittent renewable energy, including through battery backup systems, hydrogen, and molten salt storage; and so on. Many of these technologies are profitable to invest in and result in monetary savings and positive health outcomes.
The challenge is that a green future requires more than just putting up solar panels and LED light bulbs. The hard part is fighting the entrenched interests and systems that got us where we are: the fossil fuel industry, unchecked greed, white supremacy, colonialism, and big business. The Amazon, after all, is threatened because agriculture firms profit off deforestation in favor of soy and meat production, along with government corruption. And if we don't protect the Amazon, all the solar panels in the world won't save us. Nevertheless, what we are doing and plan to do now could have been done thirty years ago; we left it this late a bunch of powerful people and entities didn't want the CO2-fueled party to stop for them.
While it isn't a perfect analogy, the Covid-19 pandemic can teach us a lot about climate change. First, many scientists and others have been warning about the need to prepare for a pandemic for decades. Second, while funding for basic science has been slashed, it was still basic science that paved the way for the mRNA vaccines that have done the most, so far, to curb the pandemic. Additionally, had the U.S. government not promised to buy billions of dollars worth of whatever vaccine proved efficacious, it is likely that the development of the vaccine would have been delayed. Third, the pandemic has disproportionately impacted communities of color, Indigenous populations, the incarcerated, and the poor.
Fourth, while we have highly effective vaccines, their rollout has also reinforced pre-existing inequities: within the U.S., communities of color continue to be vaccinated at lower rates, and globally the disparity is so great as to be barbaric. Consider the chart below: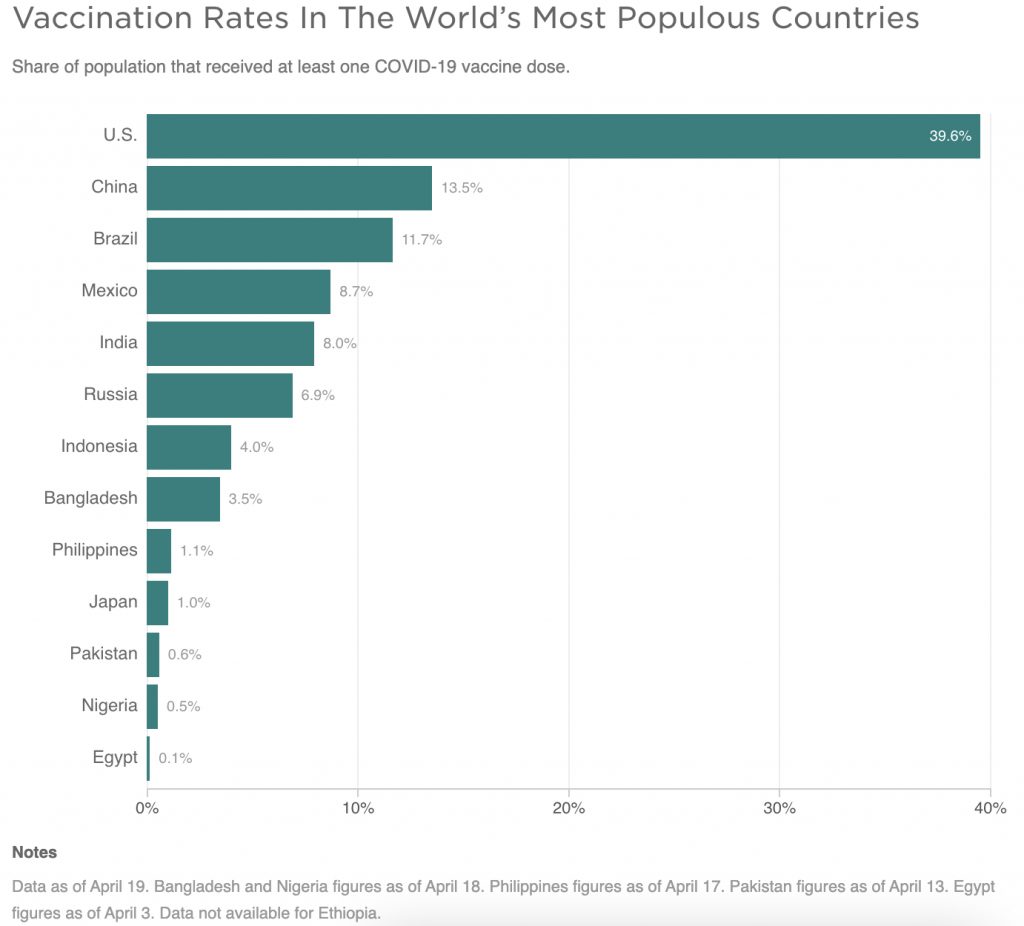 While India faces a potential collapse of its health care system due to a brutal surge in cases, for instance, the United States is sitting on "35-40 million doses of AstraZeneca vaccine Americans will never use" and that we could easily donate to countries in need. And we could waive patent rules, allowing companies around the world to manufacture generic versions of the best vaccines–saving hundreds of thousands of lives and speeding a return to normalcy. There are countries where almost no one has been vaccinated, for goodness sake! Why don't we? Greed on the part of pharmaceutical companies and cowardice on the part of politicians.
And finally, despite knowing exactly how to stop the pandemic–mask-wearing, social distancing, testing, and vaccination–misinformation and people using a crisis to score political points are causing utterly avoidable harm. Imagine if the response to the Polio had vaccine had included people claiming it causes autism and ridiculing those who took it? Or if during the 1918 pandemic–which killed roughly 50 million people worldwide–we had discovered a vaccine only to have some 40% of people either refuse or be reluctant to take it? (In a recent survey about people's attitudes toward Covid-19 vaccines, 18% said that they might get the shot and 22% said they definitely would not. This may prevent us from reaching herd immunity.)
The parallels here are obvious. We know how to decarbonize. Climate change harms vulnerable communities, while the wealthy not only adapt, they profit by investing in climate solutions. Disinformation, greed, and cowardice have all prevented action. And even as we start to take action, those who contributed the least to the problem–the U.S. has accounted for 25 % of historic emissions, compared to under 3% for the entire continent of Africa–will receive a pittance when it comes to adaptation. In fact, at the recent Climate Summit, President Biden promised a paltry $6 billion to the Green Climate Fund. We are a bull in a china shop that broke the plates, refused to buy them, got rich off the breakage, and then found a way to put it together–and make even more money. Meanwhile, the store owners are losing their livelihoods through no fault of their own.
But I am optimistic because people the world over are recognizing that racial justice is climate justice, as are disability rights, women's rights, Indigenous rights, and immigrant rights. We can no long disentangle one injustice from another. This is why the teenage climate activist Greta Thunberg has announced that "she will not go to the United Nations climate conference…in November over concerns that inequality of access to COVID-19 vaccines will leave many countries unable to attend." She went on to note that "Inequality and climate injustice is already the heart of the climate crisis." And this is why groups such as the Sunrise Movement advocate for voting rights, police accountability, immigrant rights, and other issues that, on their face, do not appear to be related to the environment.
But these issues are inextricably linked to the the green movement, and always have been. Aaron Mair, the Sierra Club's first black president, noted in 2017 that "The original founders of Earth Day literally borrowed pages from the then-happening civil rights movement to engage in righteous civil disobedience, righteous group mass action, to have humanity look at environmental degradation and the degradation of lives of individuals." For too long, however, environmentalism has been co-opted by largely white interests and concerns, by a desire to preserve nature for the enjoyment of the wealthy without concern for the underlying systems that imperil both people and the planet.
In short, if we invest in ongoing Research and Development; have the political will to stand up to entrenched interests; fight disinformation and those who spread it; make equity and justice central to every environmental initiative; and apply proven solution expeditiously, there is no reason why we cannot head off the climate crisis–while building a world that is better for every one of its inhabitants, human and non-human alike. I am profoundly hopeful. Let's get to work!
(Visited 134 times, 1 visits today)
You might also like