Executive Committee of the Board and President, Elon University
2185 Campus Box,
Elon, NC 27244
August 22, 2020
Dear President Book and the Executive Committee of the Board,
I never expected to be writing you—prior to last week, I'd never heard of Elon University—and I imagine you are surprised to be at the receiving end of a pressure campaign to remove a previously obscure member of your Board of Trustees. But here we are: American Democracy is hanging by a thread, and you are ensnared in this crisis by Louis DeJoy, who as Postmaster General is attempting to use the Postal Service as a tool for sabotaging the election in favor of President Trump. I have already written you an open letter calling on you to remove Mr. DeJoy from the Board, and I know that many concerned citizens, alumni, students, and parents of students have done the same. I am writing you now because parents have shared with me your response to them. The cowardice and intellectual dishonesty you are now displaying has gotten me thinking about how we arrived at the point where it is taken for granted that the President of the United States will do everything he can to cheat in the election.
Let me start by quoting the key part of your response: "The board's leadership has followed the public statements Mr. DeJoy has issued on USPS operations, expressing his commitment to supporting the demands on the Postal Service in the upcoming election. The board fully supports our community's belief that a free, fair and impartial election process is essential and forms the foundation of American democracy. Mr. DeJoy has said that he shares those values and the board looks forward to hearing his testimony that began today in Washington."
When I first read that paragraph, I had to stifle a laugh. Surely you are too intelligent to expect any thinking person to believe that Mr. DeJoy, a major donor to the President who has taken numerous steps in his short tenure to hamper the Postal Service, is being honest about his intentions. Believing him requires one to believe there is no connection between the sudden, massive slowdown in mail delivery and the President's constant lies about the danger of vote-by-mail, as well as his refusal to allocate the requisite funding to the USPS. It requires one to trust that the President, who has lied over 20,000 thousand times; who, as the Senate Intelligence Committee's most recent bipartisan report makes clear, willingly accepted Russian assistance in the 2016 election and then was impeached for soliciting Ukraine's assistance in this election; who traffics in racism, bigotry, and conspiracy theories; who has fired numerous Inspectors General and has fought any attempt to hold him to account—that this man would allow for a truly independent Postmaster General to be installed at a time when a well-functioning Postal Service is essential to a free and fair election.
Worse than laughable, it's insulting and worrying. For an institution of higher learning to act in such an unserious manner in this most serious of moments is a disgrace. Your response is a pathetic request that we believe and trust empty words—Mr. Dejoy says he supports a free election—over blatantly obvious actions. If you ended up watching Mr. DeJoy's testimony, I hope you, like I, came away from it with zero confidence in his ability, independence, or trustworthiness. For example, "DeJoy claimed that he has not curtailed overtime for Postal workers in spite of the fact a 10 July USPS memo to workers clearly stated '"late trips are no longer authorized or accepted.'" After getting caught in that lie, he "was forced to acknowledge that delays have occurred." (the Independent) When asked if, before removing mail-sorting machines, limiting overtime, and implementing other cost-cutting measures, he had considered the impact on seniors, veterans, and other vulnerable populations, his answer was, in effect, "no." When asked if he had discussed the aforementioned changes with anyone at the White House, he said "I have never spoken to the president about the Postal Service other than to congratulate me when I accepted the position." (C-Span) Yet he met with the President the week of August 3rd—months after his appointment. (CNN) Once again, it  strains credulity to think he met with Trump in the middle of a firestorm about the USPS, and all that Trump had to say on the matter was "congrats on the new role."
I could go on. There are serious concerns about DeJoy's conflicts of interest, as well as questions about how his name got on the list of candidates for the role to begin with. (CNN, Slate) And, stunningly, he refused to agree to re-install removed mail sorting machines, claiming that they are not needed, even though they clearly are. Instead, he wants us to take him at his word that he is implementing these measures to increase efficiency and save money, and that removing machines that automate the sorting of mail is congruent with that aim.
Let's be honest, though. You aren't going to remove Louis DeJoy from your Board for the simple reason that he is extraordinarily wealthy. I get it: I run a nonprofit, and we depend on the largesse of the rich and powerful to keep our lights on. Yet I ask you, what will it take for us to finally cease normalizing undemocratic and immoral behavior? Isn't that how we got here to begin with—accepting Trump's despicable actions for years because he was (supposedly) wealthy and powerful, rather than shunning and investigating him? Think about how much he has gotten away with, and for how long…of all the people who could have said, "Enough!" but did nothing. And now he is in the one role where he is almost literally above the law. For it is painfully obvious that if Trump acted as he does in any normal job, he would be fired; similarly, in a healthy Democracy, DeJoy's would not have been hired—his conflicts of interest and utter lack of qualifications for the role would have ruled him out. But here we are.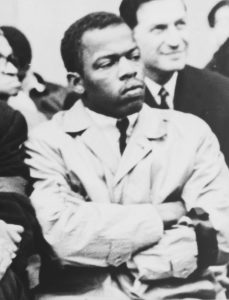 Let me be clear: Louis DeJoy isn't worth the money he donates to you. Even if we give him the benefit of the doubt and accept that he has acted not out of malice but incompetence, the fact remains that millions are not getting their mail on time—resulting in late deliveries of medications, social security checks, bills, and other essentials. He has, in other words, already caused immeasurable harm to the nation and further put into doubt the safety and validity of the election. To keep him on your Board is to say that his donations matter and his actions do not. It is to demonstrate that your mission to "encourage freedom of thought and liberty of conscience" carries weight so long as it does not interfere with pecuniary or reputational concerns. And it is to prove the sad truth that corruption takes root and flourishes in the face of cowardice.
You are of course not to blame for the evil of this administration—the lies, the hate, the corruption, the incompetence, the death and destruction of so many lives and institutions (think of COVID-19, Hurricane María, children in cages at the border…). I am sick of sharing with those who know better—who know the quote—Dr. King's exhortation that there comes a point where silence is betrayal, where inaction is complicity! You find yourselves in a position where you can make a powerful, moral choice, one that will show your students, faculty, alumni and, yes, donors, what it means to be a beacon of higher learning and intellectual and literal freedom.
Fortunately, it is not too late to do the right thing. As the late Congressman John Lewis said, "When you see something that is not right, not fair, not just, you have to speak up. You have to say something; you have to do something." Injustice is surprisingly easy to nip in the bud. It may not seem like a big thing, whether or not a particular wealthy donor is on your Board, but the unjust thrive on normalization, on the slow erosion of values—until we look up one day from our little lives to find that everything we believe in is consumed by fire.  No! Empty rhetoric, intellectual dishonesty, and moral cowardice are why we find ourselves on the precipice. You would do well to heed these other words of Representative Lewis: "Freedom is not a state; it is an act. It is not some enchanted garden perched high on a distant plateau where we can finally sit down and rest. Freedom is the continuous action we all must take, and each generation must do its part to create an even more fair, more just society."
You know what the correct course of action is. Will you do what's right, or what's convenient?
Sincerely,
Andy Posner
A citizen concerned for his country
(Visited 595 times, 1 visits today)
You might also like