One of the fundamental contradictions, if not flaws, of the nonprofit world is how the vast majority of us are funded. People and businesses generate massive profits, often at the expense of people and the planet–underpaying workers, skirting regulations, lobbying for lower taxes, dumping pollutants into the ground, water, and sky–and then donate a tiny percentage of those ill-gotten gains to nonprofits, in exchange for which they earn a tax deduction and positive PR. I wrote about this dynamic in a May 2019 article for the Chronicle of Philanthropy titled In Our Broken Economic System, All Nonprofits Face the 'Sackler' Donation Question. There I explored whether the recipients of grant dollars from the Sackler Family, which became billionaires through the sale of Oxycontin, should return the money, and concluded that the answer is likely no: if nonprofits were to return "dirty" money, we would be left with little funding to carry on our all-important work!
Still, this model has always been hard to defend. And in the era of COVID-19, rising authoritarianism, and a climate emergency, I find myself ever-closer to denouncing it, even at the risk of biting the hands that feed Capital Good Fund. What inspired me to write this essay was a Twitter thread by Stop the Money Pipeline, a "coalition [of] over 150 organizations" that seek to hold "the financial backers of climate chaos accountable." The thread is about Line 3, "a proposed pipeline expansion to bring nearly a million barrel of tar sands [oil] per day" that will run straight through "untouched wetlands and the treaty territory of the Anishinaabe peoples."
We cannot stop the climate crisis while continuing to build this kind of dirty, climate-polluting infrastructure. And none of these massive, expensive projects are feasible without the backing of financial institutions and insurance companies. So when Stop the Money posted about the largest financial backers of the pipeline, I had a feeling that many of them would turn out to be funders of Capital Good Fund. Sure enough, several of them are, although in the interest of not shooting myself too directly in the foot, I won't specifically call them out (pragmatic cowardice on my part, perhaps?)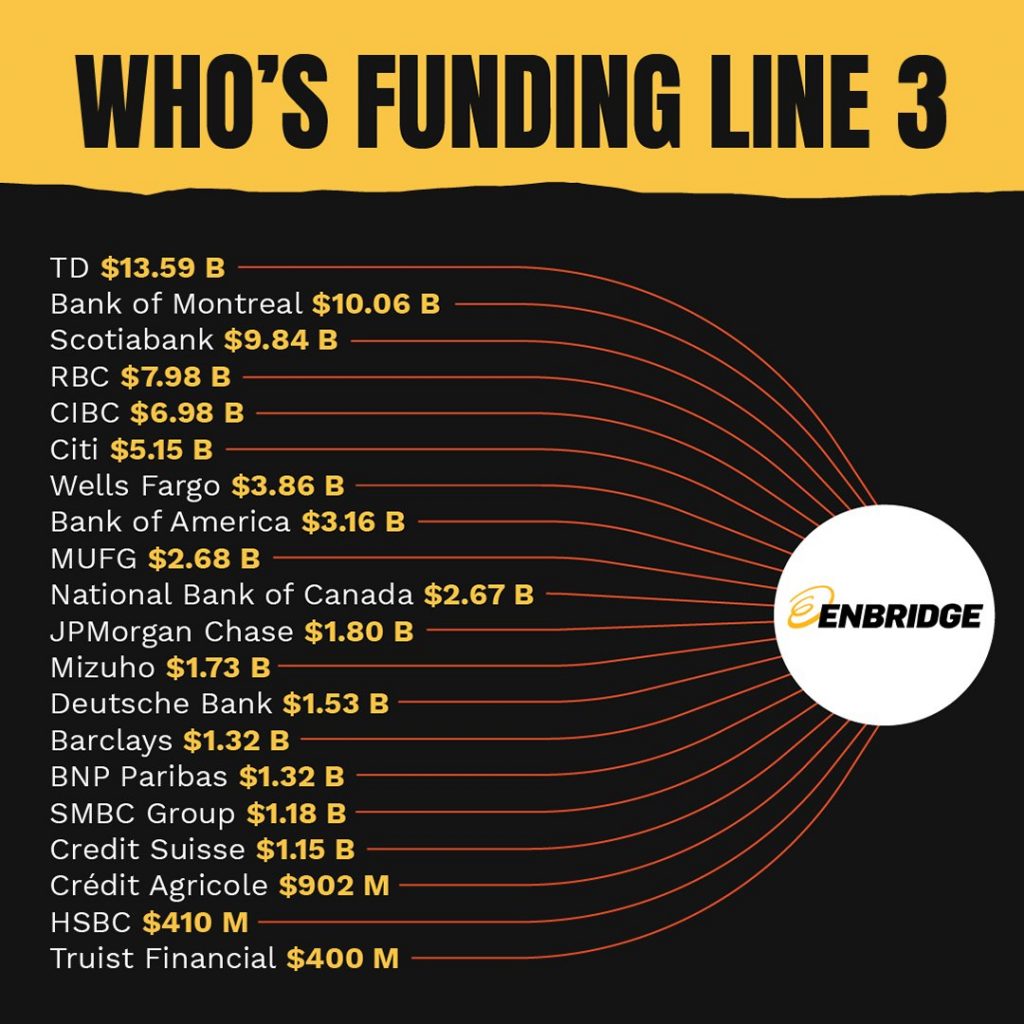 Not only is this wholly incompatible with the goal of having a habitable planet, it also flies in the face of what many of these banks have said about the importance of tackling climate change. One CEO noted that "Climate change and inequality are two of the critical issues of our time," while his bank has provided hundreds of billions of dollars in funding for fossil fuels since the signing of the Paris Climate Accords in 2015. Another CEO recently said that "Climate change is one of the most urgent environmental and social issues of our time" while his bank invested over $26 billion in fossil fuels in 2020 alone.
It is wonderful that businesses provide so much philanthropic support; without this, the work of nonprofits like Capital Good Fund would be impossible. I don't know how to square this circle, however: while we receive six and low seven-figure grants and investments, many of our funders are investing hundreds of billions of dollars into furthering the climate crisis. Now we find ourselves on a warming planet, with rapidly melting glaciers, rising oceans, and ever-more-frequent wildfires, hurricanes, droughts, and floods. What's worse, it is an entirely avoidable catastrophe, for the science is clear and we know how to solve the problem. What we've lacked is the political will and the capital to fund the solutions.
So I feel compelled to say something, but at the same time, what good would it do to jeopardize my little organization's funding? We do so much to change the lives of those we serve, even if the harm done by some of our funders far outweighs the good we do. I don't know the answer, but I can't pretend that the hand the feeds us isn't also feeding the forces that are jeopardizing people and the planet. The only thing I can do is speak out and try to nudge, cajole, and force these firms to fund the just future that all of us desire, deserve, and demand. It's a balancing act that every nonprofit leader has the impossible task of maintaining…
(Visited 82 times, 1 visits today)
You might also like